Hey everyone! Boy have I missed writing. I apologize that I haven't written in awhile, I have been super busy and just haven't had the time to sit down and write. But I'm back now! We'll be jumping back into our 2 posts a week on Tuesdays and Fridays. I'm posting today instead of Friday just because I felt like writing today. If you're subscribed to my email list, you'll notice that I now have that up and running.

Have you ever felt like God loves everyone else more than He loves you? I definitely have. Maybe it's because you've been praying for something and He's not answering your prayers with the answer that you want, or maybe He keeps allowing bad things to happened to you. No matter the reason, that's a horrible feeling. But I'm here to tell you that God doesn't play favorites. Jesus came to earth to die for you. If you were the only person on this earth, He still would've died. He died for every single person has ever existed and ever will exist. Not just for your pastor or youth pastor, or for that one super spiritual person in your youth group. God has something amazing for you, you just haven't gotten to that place in your life yet. Speaking from experience, I can tell you that it is really hard to look around and see all your friends receiving miracles such as supernatural healing or the gift of speaking in tongues. Ever since I was 9 years old, I had prayed for the gift of tongues. I was so upset at God because I thought that He didn't love me as much as He loved my friends because they all could already speak in tongues. But God doesn't necessarily give out gifts when we want to receive them, He gives them out when He knows the time is right. When you're close enough to Him. When you're at the right place in your walk with Him. I didn't speak in tongues for the first time until I was 13 years old and praying with one of my friends for her family. Another example, I've had really bad knee pain for years. My knee will randomly dislocate and I'll have to pop in back in place. It constantly hurts, whether I'm sitting, standing, playing sports, or laying on the couch. At first it was just one knee, but now it's the other one too. And recently, my hip/thigh has been bothering me a lot. I've gotten prayer for it I don't know how many times and God hasn't healed me yet. But last week, a friend of mine came to church with a brace on her knee and a wheelchair, but left being able to run and jump. And I was super happy for my friend, but I was also jealous and upset at God. Why was she healed but I still have to be in constant pain? I had to stop and remind myself that everything happens in God's perfect timing. That's something that you should remember too. I know it's difficult to see God working all around you, but it seems like He's not doing anything to help you. But just put your trust in Him and let Him work in His own perfect timing.
Powered by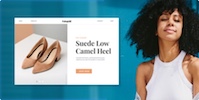 Create your own unique website with customizable templates.